Photo: Kardy Photo
Team Rocky Mountain ATV/MC made their way to WW Ranch MX in Jacksonville, FL for the seventh round of the 2020 Pro Motocross Championship Series. Blake Baggett rode well again, earning a 6th overall, and Justin Bogle continues to improve, riding to an respectable 13th overall.Photo: Kardy Photos
Blake Baggett
Blake Baggett wasted no time going to work in moto one, as he finished the first lap in 8th place. He continued moving forward into seventh before coming under attack from Eli Tomac. Both riders began fighting back and forth for the next several laps before Blake slid back one spot. He kept on the gas and after moving past Joey Savatgy for 7th, would put in another hard charge on Eli Tomac for sixth before running out of time. He ended up crossing the finish line in 7th. In the second moto, Blake complted the first lap inside the top ten in 7th place. He held the pace and pushed into 6th by the half-way point of the race. The number 4 hit his lines to take the checkered flag in 6th, earning 6th overall for the day.
"It was a good day overall. I had the speed, I didn't get the best starts, the track was tough and I didn't move forward as quick as I should have. Still a good day and we will take the momentum into the last two rounds of the season."

Blake Baggett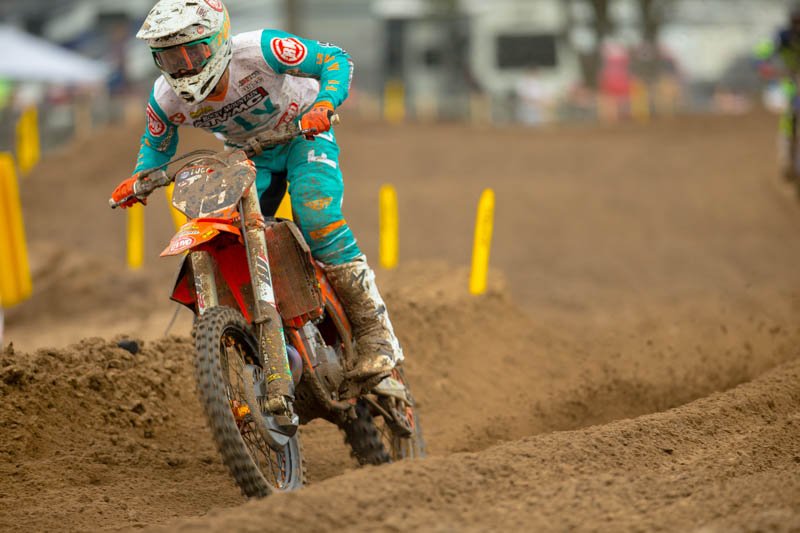 Photo: Kardy Photos
Justin Bogle
In moto one, Justin Bogle had a good launch out of the gate, as he crossed the line on the first lap inside the top fifteen. He then put a charge forward to work his way to just outside of the top ten, taking the checkered flag in 11th. Unfortunately moto two would not go as smooth for Justin. A first lap crash would put him at the tail end of the field. He immediately remounted and then put in one of the best charges of the season as the he fought his way up to 15thby the checkered flag, ending the day with 13th overall.
"Today was good. I felt really comfortable on the track and had the speed out there. It's a shame I went down at the start of the second moto, as I felt I could have had a top ten finish. We are still making huge progress and will be ready at Thunder Valley next week."

Justin Bogle
Team Rocky Mountain ATV/MC-KTM-WPS now heads to Lakewood, CO and Thunder Valley for round eight of the 2020 Pro Motocross National Championship.