Photo Credit: Kardy Photos
Round two of the 2020 Pro Motocross Championship series made a muddy return to the famous Loretta Lynn Ranch in Hurricane Mills, TN. Blake Baggett raced to a top ten finish, while teammate Justin Bogle put a solid top ten ride in moto two.
Blake Baggett
Blake Baggett shot out of the gate in moto one and instantly took on the track in it's challenging condition, as a downpour right before the start left it far from ideal. Buried deep in the pack, Blake powered through the thick mud and made his way forward to just outside the top fifteen by the middle of the race before coming in to the mechanics area for new gloves and goggles after tipping over in the mud. Despite the extreme conditions, he would work his way back up to 14th by the time he crossed the checkered flag. The beginning of moto two would prove challenging for Blake, as an early race crash would have him fall back in the pack. Nevertheless, Blake dug deep from his early mistake, and after stopping for fresh goggles fought his way inside the top ten to an 8th place finish. His 14-8 score earned him 8th place overall for the day.
"The track was tough today. It was some of the worst track conditions we have had in a long time, and had issues in both motos. I didn't let the track beat me and battled to a top ten at the end of the day. The main thing is we leave healthy and ready to battle for a top five at Ironman next week." --Blake Baggett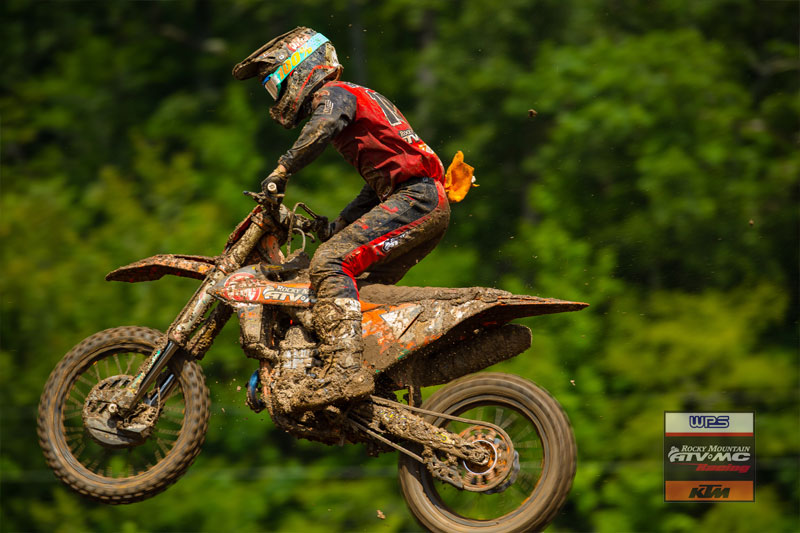 Photo Credit: Kardy Photos
Justin Bogle
Justin Bogle would start moto one at the tail end of the top twenty. The quagmire of a track would give Justin his set of issues, and he would fall back outside the top twenty where he would finish. Justin managed to turn it around in the second moto, rounding the first turn inside the top ten in 10th place. He then made his way up the field to 8th place, but ultimately would slide back just outside the top ten late in the race. With two laps to go he managed to break back into the top ten to take the checkered flag in 10th place. With that ride he earned 17th place overall for the day.
"I'm excited about my second moto ride. It's been a long road back and having a second moto like that feels like we are headed in the right direction. I want to thank the team for their support and I'm ready to fight for a top ten overall next weekend at Ironman." --Justin Bogle
Team Rocky Mountain ATV/MC will now travel to Iroman MX for round three of the 2020 Pro Motocross Nationals in Crawfordsville, IN.