It was a crazy night at SLC5 for SoCal SuperTrucks backed Team Rocky Mountain ATV/MC at round 15 of the 2020 Monster Energy Supercross Series. Team rider Benny Bloss was on the gas all day, capturing his first heat race win of his career, and Blake Bagget earned another top ten main event finish.
Blake Baggett
Blake Baggett would have a wild ride throughout the night. After crashing in the whoops section in his heat race, he would have to go through the LCQ to make the main event. He would take the lead early in the LCQ and ride to win the race. In the main, Blake would get pinched at the start, shuffling him deep into the pack. There was no time to waste so he started moving forward through the field. Hitting his lines, would work his way up from 17th to inside the top ten by the half-way point. Baggett kept the charge forward, and by the checkered flag he would lock down 7th place.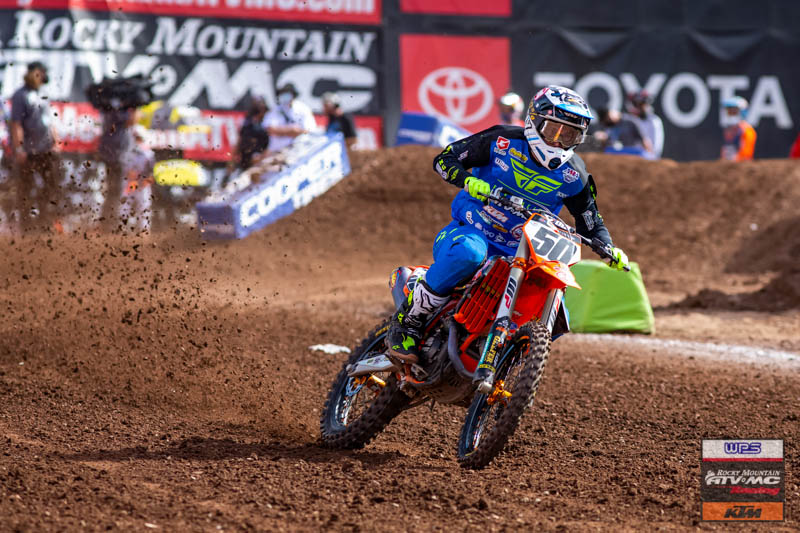 Photo: Kardy Photos
Benny Bloss
Benny Bloss came into round 15 ready as he clicked it up another gear during practice, putting in the second fastest lap time of the day. He brought that speed into the heat race as he shot off the gate and finished the first lap in third place then quickly moved into second. He did not back down putting the pressure on the leader, forcing Martin Davalos into a mistake that allowed him to take over the lead. With two laps to go, Benny found himself under attack from Dean Wilson. Both would go at it for a lap, exchanging position as Benny held off the charge taking his first ever heat race win. In the main event, Benny would get bunched up in the first turn and start outside the top ten. He was fast on the tight track, and moved himself into the top ten by mid-race. While in a heated battle for 9th position, contact with another rider would send Benny to the ground. He remounted and worked his way back up to 13th place at the checkered flag.