SoCal SuperTrucks backed Team Rocky Mountain ATV/MC came into SLC6 for the second to last time as round 16 of the 2020 Monster Energy Supercross Series took over Rice-Eccles Stadium once again. Blake Baggett earned another top ten finish, while Benny Bloss would finish just outside the top ten.
Blake Baggett
The day of racing started out as Blake Baggett shot out of the gate in his heat race finishing the first lap in 8th place. He immediately started moving forward and got up into 4th place by the middle of the race. A final lap pass let Blake take the checkered flag in 3rd place, transferring straight to the main. There he would get a good start off the line, but ultimately get shuffled towards the end of the pack after the first turn. Starting from 15th place, he advanced his way through the field, moving into the top ten by the half-way point of the race where he would find himself in a battle with Justin Barcia, eventually being passed for position. He did not let off the gas and kept on Barcia's rear tire for the rest of the race, crossing the finish line in 10th place at the checkered flag.
"My race was better tonight. We made some changes to the bike and it felt good on the track. I am looking forward to the last round and finishing off the season on a good note . " --Blake Baggett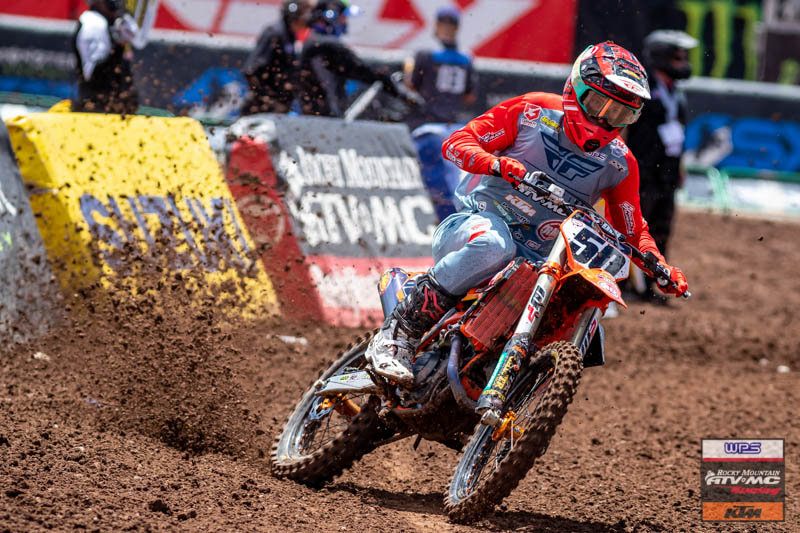 Photo: Kardy Photos
Benny Bloss
Benny Bloss rode a worthy heat race, battling inside the top ten throughout the race. He hit his lines each lap, to work his way up to 6th by the time the checkered flag flew, securing a spot in the main event. A less than ideal start in the main event would have Benny working hard to move up from a position deep in the pack. He focused up and followed his teammate forward, moving up through the field to inside the top ten. He would eventually fall back a few spots, taking the checkered flag in 11th place.